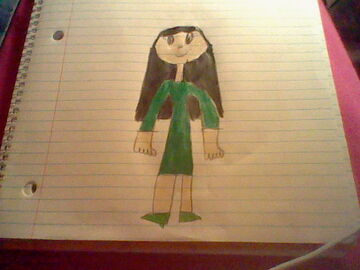 Tenel was born on Mobius with her mother Jessica Tah. She meets Thrash during the Dark Lord Wars and they made love, she bore him a beautiful daughter.
Meeting Sonic and Gang
She first met Sonic while he and Nikki were at the beach for vacation, and after her mothers Death, She was orphaned and all alone. She stole Sonic's Chaos Emerald so she can get some food to feed herself, but is caught by Shadow and Darkstorm. When she is brought to Nikki and Sonic, the emerald is returns to Sonic and she was later Questioned why she was all alone and so hungry.
Family/Friends
Thrash the Hedgehog (Husband)
Jill Roberts (Sister-In-Law)
Sonic Jr. the Hedgehog (Brother-in-Law)
Sonic the Hedgehog (Father-in-Law)
Nikki Roberts (Mother-in-Law)
Shadow the Hedgehog (Master)
Blaze the Hedgecat (College friend)
Community content is available under
CC-BY-SA
unless otherwise noted.