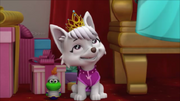 Svitti is a female dog who is the pet of the Sophia and the main Character,
Personality
Svitti is Honest, Generous, Kind, Loyal. She often to be nice when around the Sophia To make Right Thing
She is the Beautiful
She owns Sophia
When She Wanna Be Someone's pet.
Beautiful Svitti Wanna be Sophia's pet.
Appearance
Sweetie is a smaller puppy (around Skye's size). She has white fur, purple eyes, pink eye shadow on her eyelids, and a dark brown nose. She has pointy triangular ears with fluff on the inside and fluff on each of her cheeks. Some fur acts as her bangs. When in her Mission PAW uniform, her bangs are slicked back into a new hairstyle.
Her casual outfit is a magenta tiara and a magenta collar with a pink "crown" attached to it. The "crown" acts as a remote control to control Busby and it glows when activated.
Her Mission PAW uniform is a black suit with pink and white trim. Instead of a normal Mission PAW or PAW Patrol pup-tag, she wears a crown pup-tag.
Her pink vest is rose with lighter rose details like her Mission PAW uniform. Her Jet Rescue uniform is rose with black undertones and teal highlighting the helmet, visor, and her collar. Her pup-tag is now silver. She is given a different tiara, which appears golden with real jewels, in "Jet to the Rescue".
Attires
Standard outfit
Mission PAW uniform
Mission PAW uniform + Barkingburg crown
Collar only
Pink vest
Pink vest + Barkingburg crown
Pink vest + tiara
Jet rescue suit
Pink vest + new tiara Add a photo to this gallery
Equipment and Gadgets
Pup-Tag
Her pup-tag is Beautiful Gem of Friendship
Pup-Pack
Svitti's pup-pack has a Crown to her Best Friend. Sophia.
Vehicle
Sweetie's vehicle is a purple roadster that can transform into a flying helicopter / car. It has the ability to unbuckle Svitti upon command. Her jet is purple with teal highlights.
Part of Sweetie's Jet
Sweetie's Jet from Jet to the Rescue