Create the page "Crazy" on this wiki! See also the search results found.
About 30 results for "Crazy"
Lily: Mommy is akumatized! Lily: Daddy is akumatized too!

Lily: Mommy is akumatized! Lily: Daddy is akumatized too!

When Chase and Zuma get marooned on Seal Island during a heavy thunderstorm, they discover a hidden secret there that will forever change the face of the PAW Patrol. "PAW Patrol, to the Lookout!"

[The film opens up with the Paramount Pictures logo, the rings being in the place of the stars flying across the ocean and forming the iconic arch over the mountain. The SEGA logo then

(Note: All the villains, including Eggplankton, except for Carl, are not in this episode) We start off with Luna practicing her moves, with Finn and Emily watching her.

(Guest Star: Josh Sussman as Steven the Crab) Tabitha: Alright guys! Let's do what we practice!

(Guest Stars: Steve Little as Duke of Nuts, Maria Bamford as Duchess of Nuts and Vincenzo Rauso as Marquis of Nuts) (Jobeaux has come to Hyrule City to visit Lou, his old friend, Lou

(Speacial Guest Star: Elizabeth Banks as Madam Olivia the Echidna) (Sonic, Luna, Jur, Tabitha, Charles, Lewbert, and Spencer went outside)

(At the Werehog Cave, all the werehogs are asleep) Werehog Ash:(Starts having nightmares from his childhood)

(In the Middle of Nowhere) Dr. EggPlankton: (wakes up) (yawns) Man, what a night. I had to sleep on the sand. I still can't believe that Jack the Hedgehog& his sidekick, Patricia the

Shadow thought he has left the past behind him, but it still going on. And Mimi has left her home town to be with a mysterious woman name Elishia. Now Shadow must find Mimi and

Here are the Cutscenes from the Story Mode of SB100 vs Cami Universe Queen Aleena: (voice over) Queen Aleena here...After another plan foiled, Jack the Hedgehog& his friends had finally stoped Dr. EggPlankton's

Someone is framing Sonic for stealing a Chaos Emerald and his friends must get him out and stop this mysterious person before something else happens. Cameron33268110

Jack the Hedgehog is a Happy Hedgehog who goes on Adventures with Sonic, Amy Rose& his Sidekick, Patricia the Skunk. He is the Fursona of Spongebob100.

Lucille:(Reading a book, hears rustle noise)???: Ne. Buck buck.

This is the third main entry in the "Howling Pains" Series. Like before, this is a collab between RockytheEco-pup and Chaseisonthecase. Previous Story: Howling Pains: The AI

A Howling Pains/Vamp Pains crossover story. This story as usual is a collab between SmokythePolicePup and Chaseisonthecase. Previous Story (HP): Howling Pains III: The Spell

(At the dojo) Master Yo:(Meditating, thoughts) All is peaceful. All is calm. (Hears a trumpet noise, gets hit with a stick 3 times, shakes his head, continues meditating, thoughts) Relax Yo. There are

(At the forest, Shadow is sitting on a tree looking at a Chaos Emerald, then pulls out Ramona's core, he keeps thinking about Ramona, Abby, Cammie, Lizzy, and Maria, he cares for Abby

(Opening shot; fade in to a clear blue sky then to the carnival. The pups and robots are having a fun time there. Rocky, Zuma, Thorn, Spike, and Manny are at the ring toss

(At Carl's castle) Edna: Herman, this was the best Sunday Evil Dinner ever.

This is Part 2 of the third main entry of the Howling Pains series. This story picks up where Body Swapped left off. As usual, this story is a collab between Chaseisonthecase and SmokythePolicePup. Previous

(In Eggman's Base) Dr. Eggman:(Working on something)

Three stories between Sonic the Hedgehog, Cammie Stewart, and Emil Castagnier. Sonic wants to figure out about Luna's core. Cammie wants to find the other five orbs to find Shadow's memories. And Emil
Related Wiki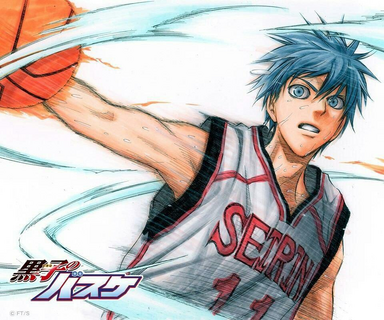 anime
800
pages

4K
images

10
videos
Kuroko no Basuke is a Japanese manga and anime about a high school basketball team making it to the top! Tetsuya Kuroko is a former member of the so-called "Generation of Miracles" in middle school. Now, these players are scattered…
View More Wikis
Community content is available under
CC-BY-SA
unless otherwise noted.