Create the page "Sonic Adventure 3: The Attack of Scourge voice cast members" on this wiki! See also the search results found.
About 200 results for "Sonic_Adventure_3:_The_Attack_of_Scourge_voice_cast_members"
"I am

the

Being of my flesh! -Josh Josh

the

Hedgehog (ジョシュ·ザ·ヘッジホッグ Joshu za Hejjihoggu) is an Ancient Hedgehog that became

the

second Ventilus

Shadow thought he has left

the

past behind him, but it still going on. And Mimi has left her home town to be with a mysterious woman name Elishia. Now Shadow must find Mimi and

going demeanor and somewhat short temper, yet strong sense of justice and love for freedom and

adventure

,

Sonic

uses his abilities to protect

the

innocent and his world (as well as many others) from

the

throughout

the

games. While they were more like "bonus" items in

the

early games of

the

series,

the

Chaos Emeralds became necessary plot devices in

Sonic

Adventure

, and that trend has continued throughout

the

later

Main Quote: "I'm may or may not be a Skunk, but I have a Heart of Gold" Patricia

the

Skunk is a Happy Witch who looks Beautiful with her Big Skunk Tail& rides on

(IDK let anybody do it)

Sonic

the

Hedgehog

as Duke

of

Nuts, Maria Bamford as Duchess

of

Nuts and Vincenzo Rauso as Marquis

of

Nuts) (Jobeaux has come to Hyrule City to visit Lou, his old friend, Lou is showing Jobeaux

the

castle)

Jack

the

Hedgehog is a Happy Hedgehog who goes on Adventures with

Sonic

, Amy Rose& his Sidekick, Patricia

the

Skunk. He is

the

Fursona of Spongebob100.

Scarlett Estevez is the

voice

behind Kitty the Okapi in

Sonic

Adventure

3

: The

Attack

of

Scourge

,

Sonic

Heroes 2: New Teams Unite,

Sonic

Forces 2,

Sonic

Unleashed 2,

Sonic

Advance 4,

Sonic

the Hedgehog

Hedgehog/

Sonic

the Werehog/Supersonic (voices), Bex Taylor Klaus as Miles "Tails" Prower the 2 Tailed Fox (

voice

), Scott Dreier as Knuckles the Echidna/Super Knuckles (

voice

), Jennifer Douillard as Amy Rose (

voice

), David Humphrey

Princess Marshalia, better known by her nickname Marsha, is an original

Adventure

Time character who later left her show for good and began living in

the

world of

Sonic

X.

that a sequel would be produced. Hoping that

the

game would be for

the

Dreamcast what

Sonic

the

Hedgehog 2 was for

the

Mega Drive, a portion of

the

team responsible for

the

first

Adventure

the

events of Quest of Death 5: Final Fight, Luna ran away, but when Black Doom returns, Luna must figure out about her parents death, Melosom's death, and

the

Chaos Emeralds. Luna

the

Hedgehog

Here are

the

Cutscenes from

the

Story Mode

of

SB100 vs Cami Universe Queen Aleena: (

voice

over) Queen Aleena here...After another plan foiled, Jack

the

Hedgehog& his friends had finally stoped Dr. EggPlankton's

(Note: All

the

villains, including Eggplankton, except for Carl, are not in this episode) We start off with Luna practicing her moves, with Finn and Emily watching her.

(Guest Star: Josh Sussman as Steven

the

Crab) Tabitha: Alright guys! Let's do what we practice!

(At

the

Werehog Cave, all

the

werehogs are asleep) Werehog Ash:(Starts having nightmares from his childhood)

sidekick, Patricia

the

Skunk, had banished me to

the

middle of nowhere. Note to self, once I take down those 2 hooligans along with his friends&

Sonic

& his pals, come back& TAKE OVER THIS PLACE!

(At Carl's castle) Edna: Herman, this was

the

best Sunday Evil Dinner ever.

Cameron3326811 Frozen Scorpio

Lucille:(Reading a book, hears rustle noise)???: Ne. Buck buck.

Three stories between

Sonic

the

Hedgehog, Cammie Stewart, and Emil Castagnier.

Sonic

wants to figure out about Luna's core. Cammie wants to find

the

other five orbs to find Shadow's memories. And Emil

(In Hyrue City) Shop Owner: Get out of here!

thumb|398px|link=

Sonic

the

Hedgehog is a live action 2015 film, starring Hayden Christensen, Kristen Bell, Drew Van Acker, Jimmy Bennett, Ariel Winter, Zachary Gordan, Alex Pettyfer, Georgie Henley, Jessica Tyler Brown, Chris Pine
Related Wiki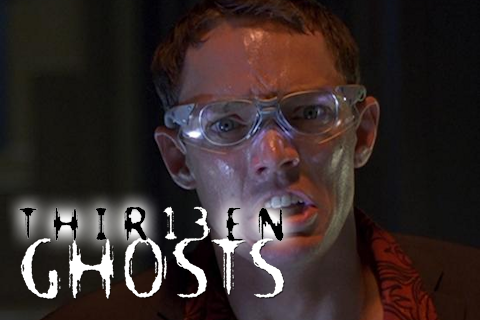 movies
10
pages

100
images

1
video
13 Ghosts is a 1960 horror film directed by William Castle and written by Robb White. To the dismay of some of the cast members, Castle gave top billing to 12-year-old Charles Herbert. It was remade in 2001 under the…
View More Wikis
Community content is available under
CC-BY-SA
unless otherwise noted.