Create the page "18" on this wiki! See also the search results found.
Results for "18"
The Chaos Emeralds (カオスエメラルド Kaosu Emerarudo) are seven ancient relics of great power from the Sonic the Hedgehog video games. The Chaos Emeralds have mystical properties and abilities

"I am the Being of my flesh! -Josh Josh the Hedgehog (ジョシュ·ザ·ヘッジホッグ Joshu za Hejjihoggu) is an Ancient Hedgehog that became the second Ventilus

Sonic the Hedgehog (ソニック・ザ・ヘッジホッグ Sonikku za Hejjihoggu, born 23 June) is the titular main protagonist of the Sonic the Hedgehog series and Sega's mascot

Main Quote: "I'm may or may not be a Skunk, but I have a Heart of Gold" Patricia the Skunk is a Happy Witch who looks Beautiful with her Big Skunk Tail& rides on

3 years after the events of Sonic Unleashed, another werehog called Werehog Ash was attack by a monster called Mongar and Sonic must defeat him. Ever time people say anything intereasting, Werehog Ash starts seeing

(IDK let anybody do it) Sonic the Hedgehog

Princess Marshalia, better known by her nickname Marsha, is an original Adventure Time character who later left her show for good and began living in the world of Sonic X.

Shadow thought he has left the past behind him, but it still going on. And Mimi has left her home town to be with a mysterious woman name Elishia. Now Shadow must find Mimi and

Jack the Hedgehog is a Happy Hedgehog who goes on Adventures with Sonic, Amy Rose& his Sidekick, Patricia the Skunk. He is the Fursona of Spongebob100.

Marshall is a Dalmatian puppy and is one of the main protagonists in the TV series PAW Patrol. He is the 3rd member of the PAW Patrol and is the team's fire pup, as

Main Quote: "I'll get that Krabby Patty Formula!" Dr. EggPlankton

Emily is Sonic's New Girlfriend. But Sonic made Marriage proposal for Emily. She Agreed to be his new Wife Forever. Emily Gave birth to a Baby daughter They Named their Baby Daughter Daughter named

Pollyanna is Sonic's Daughter, and Lightning McQueen's future Girl friend She Wants who can Play With her a Game.

This article is a transcript of the PAW Patrol episode "Pups Save an Elephant Family" from Season 2, which premiered on February 19, 2015 in Canada, and on March 6, 2015 in the United States.

00:00:49 Ryder: Chase, Skye, Marshall, let's go. PAW Patrol is on a roll. 00:00:55 (Sounds): (Tires squealing, siren wailing) 00:01:04 Farmer Al: I guess this wasn't the
Related Wiki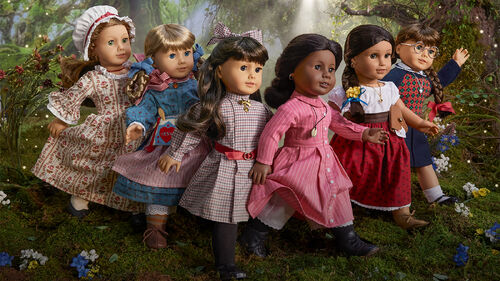 books
American Girl is a brand of 18" dolls (originally independent, now owned by Mattel) that initially based characters on pre-teen-girls living in various noted periods of American history. The company's flagship line, the Historical Characters, are multiple characters spanning time…
View More Wikis
Community content is available under
CC-BY-SA
unless otherwise noted.